Welcome to the Wellsboro Parks and cialis for women Recreation Department
Helping to make our Community Strong
The Wellsboro Department of Parks & Recreation brings the best of nature settings, activities and entertainment to our community. Explore this site to find out what's happening in and around the Tioga County Pennsylvania area.
REGISTRATION - INFORMATION
Call 724-0300 Between 8:00am and 1:00pm Monday - Friday
Announcements
Thursday, 26 March 2015 00:00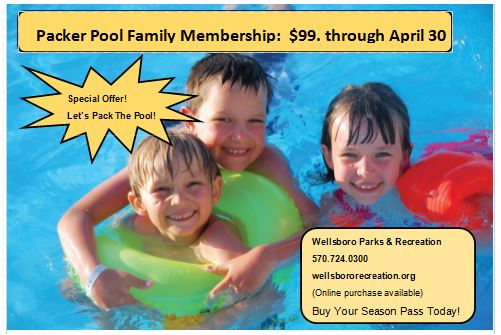 Friday, 20 March 2015 00:00
Don Gill Elementary School Grounds, Sherman Street Wellsboro, PA
PRIZES, PRIZES, PRIZES - Dozens of prizes have been donated by area merchants.
4000 eggs will be hidden with a treat in each egg. If you are lucky enough - you'll find a golden egg that will correspond to one of our many prizes. Note: Only one golden egg per participant can be redeemed.
Saturday, April 4, 2015
11:00 am
Children Grade 6 and below

Toddlers hunt area for the little egg hunters under 5 (along school building)

K thru 2 on flat playground area

3 and 4 on hill/swingset area

5 and 6 on top ballfield
Special Guest: THE EASTER BUNNY! Bring your cameras and take your child's picture with the easter bunny!!
A special thanks to our hunt organizer & volunteers: Members of the Wellsboro Area Education Association.
Online Program Registration
Monday, 19 August 2013 00:00
Online Program Registration - Now Available!
To start with your online program registrations all you need to do is:
Go to the PROGRAM REGISTRATION TAB, and create a new account

Add the participants name for the program you want to register for, and then the age appropriate programs will pop-up for you to select.
Set up your account just once and when you return, log-in using your user name and password.
Safe

Easy

Convenient to use!
If you have any questions, please give us a call 570-724-0300